6:01 am
[atotalsub]

She Is the Diety i Worship
she is truly the GODdess i worship, wouldnt it be good if there was a church were people actully had rituals of worship dedicated to her ?
5:22 pm
[supershine]

It has just occurred to me that the following Divas are not part of the Goddess/Saint hierarchy and hereby deify them:
High Goddess Courtney Love
High Goddess Anna Nicole Smith
Low Goddess Nina Hagen
Low Goddess Diamanda Galás
Low Goddess Imelda Marcos
Low Goddess Leona Helmsley
2:30 pm
[b_horror_film]

intro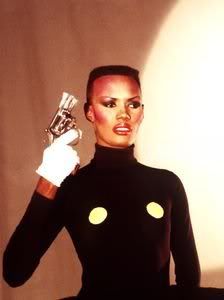 hello, my name is romi + i have been infatuated with High Goddess Grace Jones since i was a young child. it is only recently which i actually began to worship Her, and i am now hard at work on a larger-than-life shrine which will literally "Grace" the corner of my room + i will pray to every night, asking for guidance + hair advice. my other favorites are High Goddesses Cher, Trina and Divine, as well as Low Goddesses Foxy Brown, Lil Kim, John Waters, Brigitte Bardot, Amy Sedaris, Roxanna Shante and Nancy Sinatra.
Current Mood:
obsessed
4:52 am
[supershine]

Official List of Goddesses, Saints, and Enemies of the Church
High Goddesses
Madonna, Cher, Kylie Minogue, Trina, Abbing-Gail of Hermitage*, Grace Jones, Divine, Dolly Parton, Delta Burke, France Gall, Pam Grier, Courtney Love, Anna Nicole Smith
Low Goddesses
Janice Dickinson, Foxy Brown, Lil Kim, John Waters, Brigitte Bardot, Shakira, Lisa "Left Eye" Lopes, Linda Jo Rizzo, Loretta Lynn, Bea Arthur, Édith Piaf, Judy Garland, Dixie Carter, Amy Sedaris, Gangsta Boo, Roxanne Shante, Nancy Sinatra, Françoise Hardy, Ce Ce Peniston, Rozonda "Chilli" Thomas, Tionne "T-Boz" Watkins, Beyoncé, Nina Hagen, Diamanda Galás, Imelda Marcos, Leona Helmsley
Saints
None yet.
Enemies of the Church
Jeffree Star
This list was last updated on 15 July 2005. I am aware that there are a lot of people traditionally considered as Divas not on this list, however I did not want to put anyone on the list who I do not personally worship until other members propose their addition.
*Abbing-Gail of Hermitage is my beloved cat. She is the only animal allowed to have Goddess or Saint status.
Here
is a picture of her.
Current Mood:
get well kylie, we love you